THE UPSIDE DOWN
The Way it is for Worshipers of Christ The King
Have you watched Stranger Things?  A young boy, is captured by an evil creature/spirit animal from a supernatural realm that runs parallel to his small town. When Will is rescued from this realm and brought back to his own, he can still see what is happening in the Upside Down because he is inhabited by the Spirit of this animal.  Will can see lucidly behind reality to another one that is happening at the exact same place and time, but no one else can.  It's pretty fascinating, and it's not altogether unlike my own experience as a believer who now has the indwelling of the Holy Spirit…
I've been stuck for a month in the Book of Daniel, reading the story of three men over and over again. These men worship the King of Kings. And the way God treats them makes my soul shake and my throat hurt with tears. I see the mechanics of how God sometimes works in their sweet and miraculous story. I too have seen His hand of deliverance in my own life.
If you've never read the story of Shadrach, Meshach, and Abednago, then please do so! It starts in Daniel Chapter 3, when God, who places rulers and authorities in their position (Romans 13:1-2), inclined King Nebuchadnezzar to make an image of gold. Nebuchadnezzar then commands the people of Babylon to worship the golden idol.
So backing up, remember God had appointed these three Jewish guys (through Daniel), to the Kings Court over all his affairs. If you are a Christian, you live by a different set of wisdom than the rest of the world. Your worship of the King directs your steps. Your path is lighted by eternity and your eyes see past the shadows of temporary glory to a far surpassing glory as a Heavenly Citizen. So if your earthly King requires you to do something sinful, like say worship another god, then that's where your submission to the earthly King must stop. You do this because you live in the "Upside Down". The Kingdom of God has an entirely different economy.
So here's the rub. These three guys are given a command by their earthly king to worship a false god. "And the herald proclaimed aloud, "You are commanded, O peoples, nations, and languages, that when you hear the sound of the horn, pipe, lyre, trigon, harp, bagpipe, and every kind of music, you are to fall down and worship the golden image that King Nebuchadnezzar has set up. And whoever does not fall down and worship shall immediately be cast into a burning fiery furnace." Therefore, as soon as all the peoples heard the sound of the horn, pipe, lyre, trigon, harp, bagpipe, and every kind of music, all the peoples, nations, and languages fell down and worshiped the golden image that King Nebuchadnezzar had set up."
Everyone except Shadrach, Meshach, and Abednego.
So God appointed some rats. The Chaldeans were more than happy to maliciously rat out these Jews in order to make themselves look good to the King and get those Jewish boys who thought they were above the law into the punishment they surely deserved….
This illustrates two very important truths that every worshipper of Jesus will come to recognize throughout the Bible.
1. God appoints you. He puts you where you are, in the position that you are. There isn't a minute of your life out of his loving and sovereign care. Do you trust Him? Do you believe He is good? You matter, and where you are, who you are with, is no accident.
2. God appoints trials to rise up. For your good and His glory. He sovereignly sent those malicious Chaldeans to tattle to the King. He has purposes for these trials. Good purposes. When we share in His sufferings, we become more like him.
Sometimes things don't look good because they are not good. People spreading lies about you that aren't true and ruining your life are not good. People getting abortions and killing innocent babies are not good. The hard things in life are the hardest to deal with because we want a God who gives us all good circumstances, with no pain. We don't want to share in His sufferings. We don't want to deal with abortion. How could God let that happen? We don't want to talk about sexually abused children. How could He allow this? We don't want that because we don't understand a Sovereign God who works all things for our good. We are not patiently looking into eternity. We want it fixed now. His ways are not our ways, they are higher and in the end, HE WILL MAKE ALL THINGS RIGHT. All the murderers who call evil good will answer for their sin, and all the sinners saved by grace will be justified by the King who took all that sin upon Himself to make it right.
Let's continue with the story. Next, the King verifies that these malicious Chaldeans are telling the truth. Now at this point He has to be a man of his word, because his own glory and reign are at stake.
13 "Then Nebuchadnezzar in furious rage commanded that Shadrach, Meshach, and Abednego be brought. So they brought these men before the king.14 Nebuchadnezzar answered and said to them, "Is it true, O Shadrach, Meshach, and Abednego, that you do not serve my gods or worship the golden image that I have set up? 15 Now if you are ready when you hear the sound of the horn, pipe, lyre, trigon, harp, bagpipe, and every kind of music, to fall down and worship the image that I have made, well and good.[c] But if you do not worship, you shall immediately be cast into a burning fiery furnace. And who is the god who will deliver you out of my hands?"
16 Shadrach, Meshach, and Abednego answered and said to the king, "O Nebuchadnezzar, we have no need to answer you in this matter. 17 If this be so, our God whom we serve is able to deliver us from the burning fiery furnace, and he will deliver us out of your hand, O king.[d] 18 But if not, be it known to you, O king, that we will not serve your gods or worship the golden image that you have set up."
19 Then Nebuchadnezzar was filled with fury, and the expression of his face was changed against Shadrach, Meshach, and Abednego. He ordered the furnace heated seven times more than it was usually heated."
3. God sustains us during our trials. I think we can see how God is not cruel, nor is He evil, though He does allow it for our good. We see this in His sustaining grace.  Even before the Lord rescued these men, they proclaimed His glory. "If not, we will not worship you, O king." They said this to King Nebbuchadnezzar's face. They said this because the Lord was with them. Everything becomes clear in a crisis. What really matters is made evident. We find strength for the hard things that we did not know we had because God is providing it in that very moment.
I really LOVE THIS NEXT PART>>>> v.22 Because the king's order was urgent and the furnace overheated, the flame of the fire killed those men who took up Shadrach, Meshach, and Abednego.
The men who threw them in were burnt up. Killed. TOAST. You take part in defaming God's name, and it isn't pretty. Justice is not always this swift, but in this case, part of the miracle was the great contrast of the mighty men being killed just by a near flame while the whole time these Worshipers of the one true King were not harmed. Their clothes did not even smell of smoke. The fire had no power over their bodies.
4. God will always make things right. So get out of the way. You don't need to worry or manipulate your situation. Wait for God's deliverance. The men who threw the Worshipers into the fire got dealt the death penalty for not standing up for what was right. They worshiped a false god. They aided and abetted evil. God took care of it. In the end He will make it right.  Should you fight for justice? Yes. But should you do it out of fear or trust? I think those are two very different fights.
5. God's glory will always be revealed in our suffering. I am willing to bet it was pretty hot and scary in that furnace. Suffering for the King produces a vibrant miracle in the life of a believer. It refines us like precious metal in a fire. We are able to see God's worthiness, and what He has done for us, and all of a sudden, it's not upside down, to step into a fiery furnace and place our trust in that God. God always gets the glory in these unexplainable situations.
25"But I see four men unbound, walking in the midst of the fire, and they are not hurt; and the appearance of the fourth is like a son of the gods. 26 Then Nebuchadnezzar came near to the door of the burning fiery furnace; he declared, "Shadrach, Meshach, and Abednego, servants of the Most High God, come out, and come here!"
See God getting the glory there? One minute King Nebb is demanding his own glory, the next he is declaring that there is indeed a MOST HIGH GOD!
What happens next is quite Upside Down.
27 "And the satraps, the prefects, the governors, and the king's counselors gathered together and saw that the fire had not had any power over the bodies of those men. The hair of their heads was not singed, their cloaks were not harmed, and no smell of fire had come upon them. 28 Nebuchadnezzar answered and said, "Blessed be the God of Shadrach, Meshach, and Abednego, who has sent his angel and delivered his servants, who trusted in him, and set aside[f] the king's command, and yielded up their bodies rather than serve and worship any god except their own God. 29 Therefore I make a decree: Any people, nation, or language that speaks anything against the God of Shadrach, Meshach, and Abednego shall be torn limb from limb, and their houses laid in ruins, for there is no other god who is able to rescue in this way." 30 Then the king promoted Shadrach, Meshach, and Abednego in the province of Babylon."
6. God delivers His Worshippers. Whatever your earthly situation, be encouraged. God will deliver you. if you bow down at His throne, then this fiery trial that has come upon you is no accident. Don't panic. Be obedient and wait on His deliverance. Offer your body to serve and worship the ONE TRUE GOD. We can be sure it will come.
Place your trial in the light of eternity. Trust in the MOST HIGH GOD. He is mighty to save.
"Blessed is the man who remains steadfast under trial, for when he has stood the test he will receive the crown of life, which God has promised to those who love him." James 1:12
As I walk through season after season with my God, I have begun to see a glimpse of the Upside Down when a trial first arises. In Stranger Things, when Will sees a glimpse of the Upside Down, I get goosebumps because that is how it is for Worshipers of the King. We can see behind the shadow of this world, with Spiritual eyes. This is how it is for us. Start looking, friends. Start seeing.
MORE STORIES OF DELIVERANCE:
2 Kings 6:17
Luke 13
Beautiful Illustration of this passage by the amazingly talented Megan Ganovski!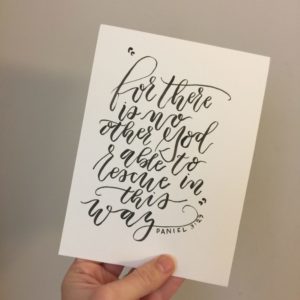 Beyond thankful for the amazing editorial guidance of Lori Chally….