Quilts are made for many reasons,  and yet I think the common thread that all quilts have are their purpose.  I really don't think that purpose is primarily physical warmth.  When I make a quilt for someone, I have an emotional connection to the person and I want to communicate my love for them. In other words, I have "all the feels"…  Usually the gifted person has blessed my life or they are dear to me in some way that needs commended or they are a tiny human, soon born to a momma whom I love… and the opportunity to creatively express what a gift they are to me is a quilt.
BESTIE QUILT
My first bestie quilt is not for my first bestie. I'd have to say she is my first mom friend and cultivated my love for sewing in a way that nurtured my creativity.  She spent many hours helping, teaching, and encouraging me through the early days of marriage and first baby and hard trials and happy young days.  She taught me how to "pick a chicken" when money was tight.  She taught me to laugh when my kids made messes, and to just throw away those underwear when I was traumatized at potty training my first daughter!  She even showed me how to iron my seams to the dark side….Haley carried on the tradition my mother began of "the older woman teaching the younger woman" how to be a worker at home from Titus even though she wasn't much older than I.  I'm so thankful God placed her in my life.
FABRIC AND PATTERN
It's been a long time since we've lived in the same town, but she is often on my heart and in my prayers.  One winter evening as I was gazing at my fabric piles, I felt the urge to make her a quilt.  In fact, it seemed ridiculous that I had not done it yet.  As I began pulling out the fabric, I knew exactly what she'd want and how I wanted to lay it out.  I challenged myself this year not to buy anything new but to persevere and make quilts with what I have.  I have so much.  It always feels good to use what you have.
I chose to merge two separate collections of farm and canning prints by Riley Blake Fabrics and some denim chambray from AGF.  I patched in a few pieces from Joann Fabrics as well that I have had since God only knows when….
The pattern began as a lone star quilt block, but then I carried out it's border with half square triangles to make the star burst out and featured the center using the chambray as contrast.  The quilt was a lot of fun.  While I sewed, it was a great opportunity to reminisce, pray for Haley and to finish several books on audible! In fact, I have a link from Amazon for 2 free audible books here if you want to grab it!  I enjoyed the last Harry Potter novel, tried to listen to Fantastic Beasts, but it was too tedious, and ended with Missional Motherhood by Gloria Furman.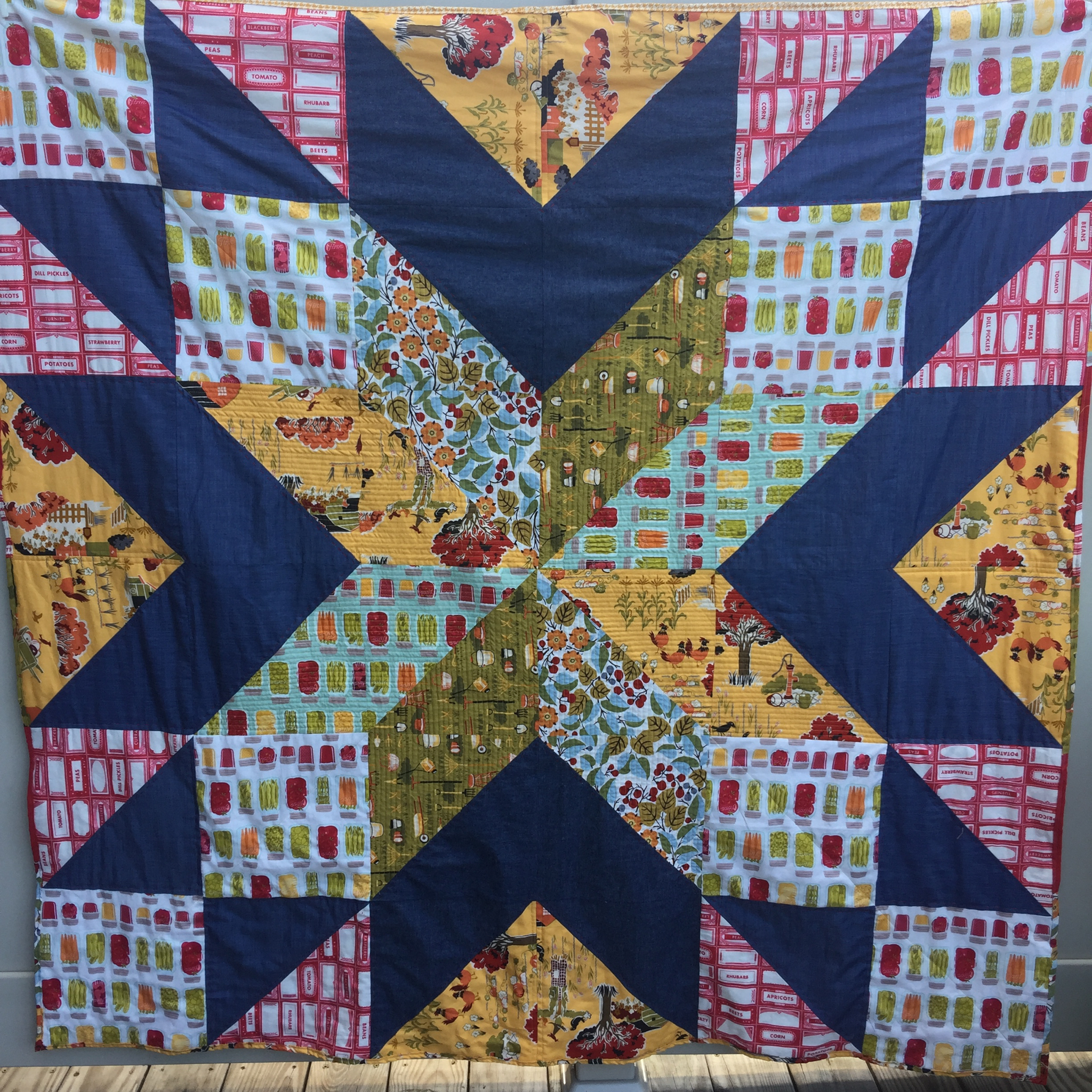 Fun facts about Haley's quilt:
-At the last possible minute as she was pulling out of her long farm driveway in Illinois to leave for Arkansas for a week, her postman pulled in to deliver the box. Phew! PTL!  She took it with her in the car.
-I tried quilting tiny lines close together for the first time…loved it!
-I used red pearl cotton to hand quilt the chambray sections.
-Ruby Jane loved this quilt, and probably thought it was hers.  She helped me photograph it. Why does it have to be so difficult to photograph quilts?! I need help.
I have a few more bestie quilts already in the works, but first I'll be working on my #4 daughters quilt.  She is getting so big and it's time for her twin size quilt!  Her 6th birthday is in a week!
Here are some links to the fabrics and batting I used! Annnnnnd lots more pictures below!